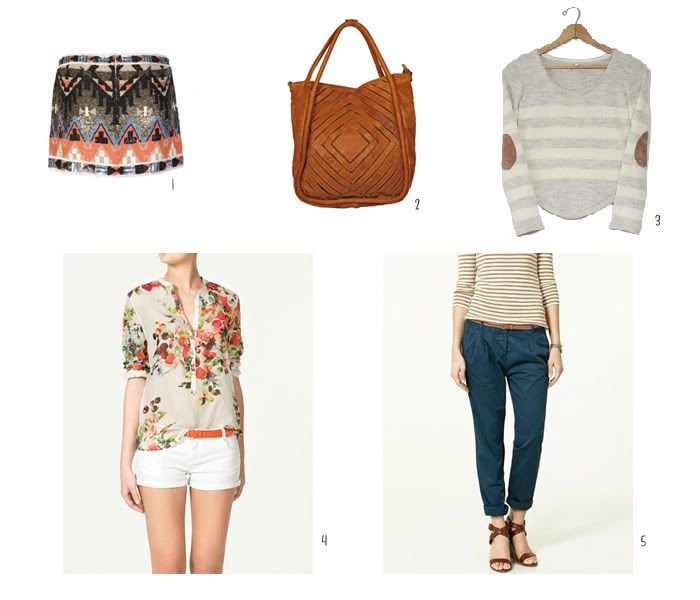 1. All Saints, 2. Monserat De Lucca, 3. Hetterson, 4. Zara, 5. Zara
Bit of an odd mix today! Of course I had to throw in the Hetterson elbow patch sweater that blog land is currently obsessing over. What I'd do to get my hands on that jumper! I'm so obsessed with jumpers right now...
Also, really dying to get a pair of chinos but I'm having the hardest time deciding which ones! So many different styles/brands/colours. I really love the blue of this pair but I'm thinking to play it safe, I might stick to a khaki colour, yes?
A few Zara mentions too, because I am getting REALLY exited about the first ever Australian Zara opening on April 20th! It has been a long time coming, first the rumours, and then the boarded up construction site in the city for what feels like FOREVER. It's great to finally have a date to look forward to. I've been saving my shopping urges, hanging out for a Zara spree. It's going to be crazy on opening day!
Been a while since I blogged, I've been in a funk. A two week long funk...
Oh, Ryan Gosling, you
kill me
.
Love this
hair style
but can't for the life of me figure out how to do it. Anyone?
Being able to design my own kitchen is a far far away dream, but I'm allowed to
look
...on that note, also check out the
I gigi General Store
portfolio...amazing!
Um, the most perfect location for
movie night
ever?
I could seriously go for a decent
Thai coconut seafood laksa
right now.
In LOVE with
this
look right now. Shirt under cute jumper with Raybans...complete with perfect hair.
Men get the
coolest
clothing.
In need of a new scarf, maybe
this
one from Zara...?
On a keen lookout for tops/sweaters like
this
. Anything with a high neck and nice cut. Anyone got any recommendations?
Hope you're all having a lovely weekend, I'm off to get me some Ben and Jerry's in Manly while the sun's out!